Wall Mount Racks 15U 550(W) X 500(D)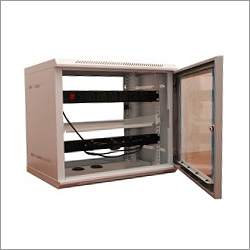 Wall Mount Racks 15U 550(W) X 500(D)
Price And Quantity
Product Specifications
Product Description
R Tech Wall Mount Racks speciallydesigned for small Networking, Domestic application, Audio Video, Telecom andLab applications. Racks manufactured out of CRCA steel welded and Powder coatedwith highest quality standards under stringent ISO 9001-2015.
Configuration for standard racks arewelded frame integrated with side panels and vented top cover with two fanmounting provision, rear side of the rack provided the wall Mount provision tomount the rack and front Toughened glass door lockable with lock and keyprovides you the visibility and security for your equipment.
Wall Mount Racks are available from 2Uto 15U Variants with 400mm, 500mm and 600mm depth configuration. Available inWelded or CKD.